CRANE CAMERAS FOR PORTAL, ROTATOR AND LETOURNEAU CRANES
These products, documentation, services etc. are created for use in heavy industrial process facilities primarily for viewing process applications to assist plant operators. All products are built to meet industrial standards and needs and to sustain environments normally destructive to common security camera products.
Portal Log Cranes
Jib type Letourneau Log Cranes
Round Track Rotary Log Cranes, Fixed cab or cab on trolley style
Log Crane camera systems

 for Pulp and Paper, Lumber, OSB, MDF, Plywood and Dimensional lumber Mills. Delivered through crane manufacturers, as well as direct to the Mill.
Below is a log crane operator's view from the cab.  Operator can't judge the grapple elevation from his seat very well without the Bass Electronics crane camera system.
Below is the view an operator needs to see.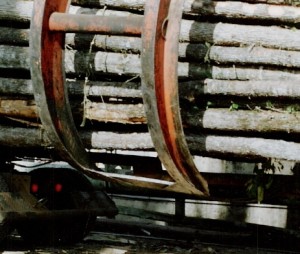 BACK strain results from attempting to view directly below the cab, increasing fatigue and operator error, job dis satisfaction etc.  Regardless of skill level, an operator can not see the grapple tine tips from the cab very well.
Below: Operators sitting up right with quality, long life cameras systems can operate longer and more efficiently.  Results are higher tons per day, less requirements to replace operators multiple times per 8 hour shift and improved operator morale.
Bass Electronics Crane Camera systems developed over 30 years work in log handling mills.  Bass Electronics offers specialized cameras and transmission systems for use on Log cranes of all types.  Several specialized products have been designed, developed and built to answer the needs demanded on Log crane applications.  Typical vibrations on these demanding machines can destroy non-purpose built cameras.  Shock-proof wireless transmission systems are proven in use on log cranes over 30 years.    Bass Electronics offers products specially ruggedized for this type of installation.  Shock absorbing devices have been developed by Bass Electronics to absorb the high frequency, high amplitude shock and vibration normally found on log cranes. Vibration/Shock on cranes can destroy cameras.  The curves below show "G" forces typical on log cranes.  Bass Electronics builds shock absorption systems that dampen the damaging shock so electronics can survive on log cranes. The blue line represents one jolt, or shock, as from a falling log striking the crane's sill beam or jolts typical when crane wheels roll over damaged or rock covered track rail. The red curve shows the dampening effect of a properly designed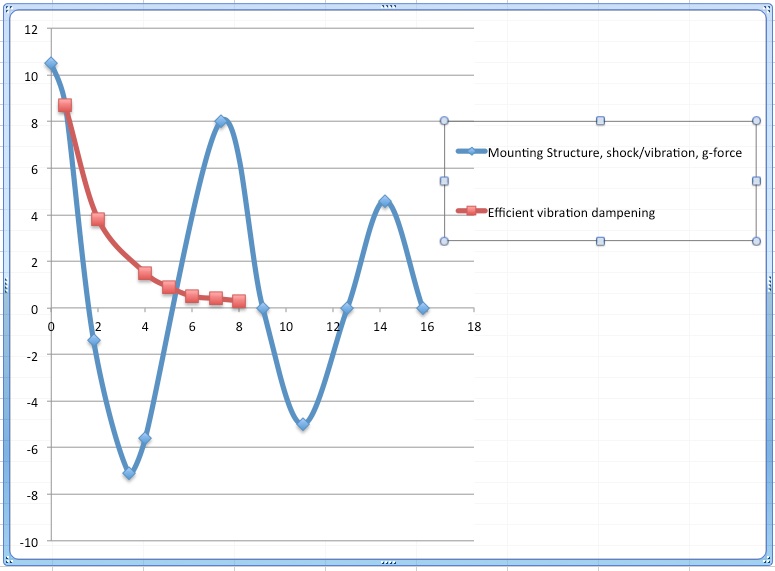 Video signals are required to be transmitted to some cabs by the Bass Electronics high powered, shock protected wireless transmitters.  These also have been developed over 20+ years specifically for this application.

Systems available to also handle the severe light brightness problems found as the sun is seen in the morning or evening.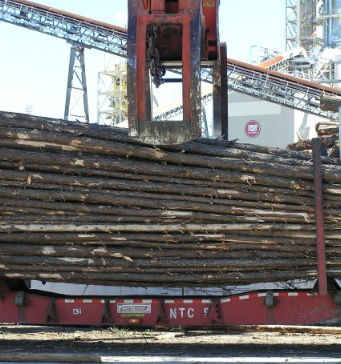 Systems available as fixed stainless steel cameras and/or remotely controlled Pan Tilt and Zoom systems.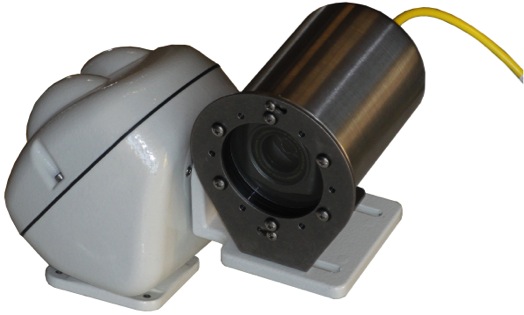 Unique, specialized, stainless steel monitor mounts designed specifically for use in crane cabs.  Highly durable and easy to install with no tools, they hang on the standard grill bars along the cab's windows.  See images below.  Desk base type monitors will fall during normal crane operations.
CRANE CAMERA INSTALLATIONS, PARTIAL LIST: