Importance of Corrosion Protection
Stainless Steel Industrial cameras are necessary in a variety of demanding applications where typical outdoor camera products are inadequate for the installation.  Most camera products allow entry of moisture and also locally present corrosives which could be salt, chemicals, acids, bases etc.  These often deteriorate and or destroy delicate circuitry and complex and sensitive optical components. Photos below show the effects of corrosives to inadequately protected circuitry in cameras, transmitters, instruments, auto iris lenses etc. (electronics of any kind).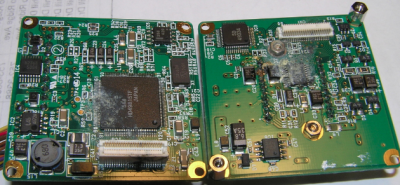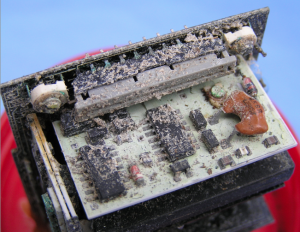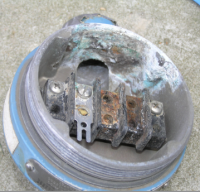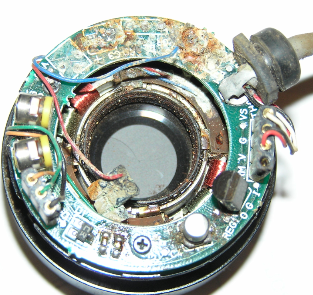 Above are various industrial circuit boards corroded by various air borne chemicals, typical in plants and Mills.  Corrosion cause: insufficient protection from ambient, harmless-to-humans, corrosive gases.  All electronics need protection if they are to last.   Click Here for more info on Stainless Cameras Below are typical environments where the stainless steel, gas-tight sealed cameras are often used:
Photos below show the SE-2012 gas-tight stainless steel camera used to genuinely protect cameras and lenses from chemical corrosive damage as in the above examples. Contact us.  Allow us to assist you with a system layout and design. Systems can range from 1 to many cameras and cabling system types and layouts vary according to the most economical style according to the application. Contact us for a free consultation.
Box shown with symbolic coax and 12vdc jumper exiting.  (These normally travel back to a monitor in the control room.)